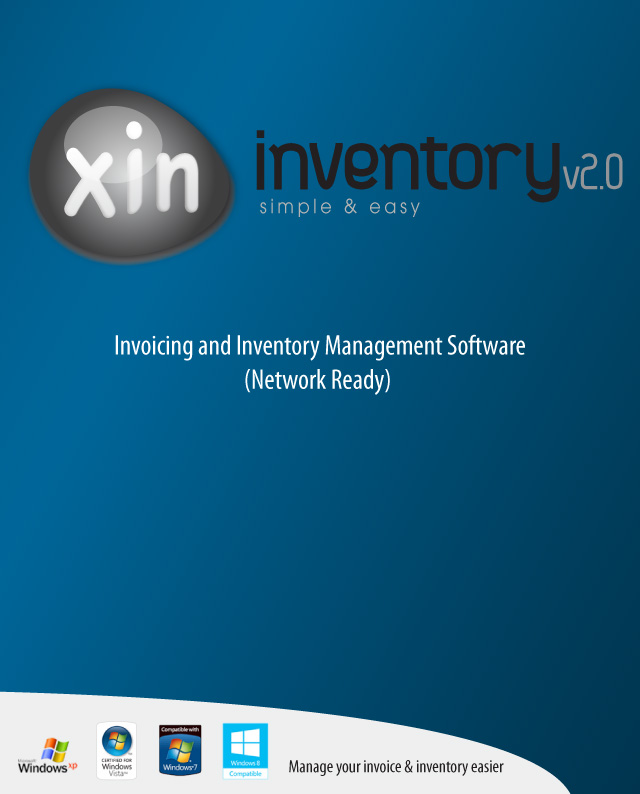 Xin Inventory 2.0
- USD 139.90 USD 79.90
- Network invoicing software with inventory control for windows
- Windows XP, Windows Vista, Windows 7 and Windows 8
Download & Try
Purchase Xin Inventory 2.0
Xin Inventory 2.0 - Create Quotation,
invoice, Purchase Order (
PO), credit note, delivery note in minutes!
Xin Inventory 2.0 is a very comprehensive and cost effective invoice software with inventory control feature which allow user to create
purchase order (PO), quotations, invoices, credit notes, delivery notes/packing slip, inventory, and stock
easily in minutes. The good thing is, it's
network enabled
which can support
multiple users
which different role in the same network (Local Area Network)
Xin Inventory is a very handy and user friendly software to cater all level of user from novice to experience computer literate user.
Below are some
highlight features
in
Xin Inventory 2.0
:
Network Enabled
- Able to access by
multiple computer
in the same network.
Stock Control / Inventory Control
- Xin Inventory 2.0 software come with a complete inventory module with
Re-order quantity alert
,
multiple price level
,
store receiving
which will helps user in stock control.
Customize Template -
User able to customer own template like purchase order template (PO template), quotation template, invoice template, credit note template , delivery note template/packing slip template, customer statement template etc easily using Xin Inventory template editor.
Customer Payment Tracking -
User able to track customer payment in invoice module or report. This will make sure timely payment from customer.
Support Multiple Tax -
Xin Inventory 2.0 support multiple tax rates and support 2 taxation at a time. It also support Regional State Sales Tax (US), GST (Australia, New Zealand, Canada) and VAT (UK, South Africa) or you can easily define own rates (other countries)
Support Paypal Payment in Invoice -
User can include paypal payment in the invoice. Customer can easily click on the link on the softcopy invoice and pay online using paypal.
There are many more features come with Xin Inventory 2.0 software. Please
download
and test on it.
Demo
Testimonial for Xin Cube's Product
he product It's easy to use I'm love how on minutes you can setup my inventory and start making invoices thanks guys great product
Mario Pintp
Clean Line, US
I was very impressed By the quick turn around time on my questions. Having checked other programs, I find this to be most user-friendly. Also, the opportunity to do a trial run was very helpful in making my final decision.
Wm. Rosenberg
Environmentally Safe Solutions, US
I tested various quoting and invoicing solutions and was not impressed with any of them until I found yours. I am beyond impressed with your software.it's AWESOME! I highly recommend people download the trial and give it a shot.
Mitchel Tendler
Lynch Material Handling Company, US
Seems to work okay after I finally got a template created. Actually, it's a pretty decent program for the money!
Sam Conner
US
This is a great software. You can't beat the price.
Jim Baca
Jim Baca Investigations, Pleasant Hill, CA, US
I have purchased your invoice program and have been using it for some time now, we find it easy to use and the switching between company invoices is quick and easy. I recommend this product to all my mates.
Bill Hansen
Outrageous Fishing Charters, Australia
Thank you so much for your help in getting the software installed on one of our computers we would recommend your software to our clients without a doubt we will be looking at upgrading our licenses in the near future to accommodate more staff, thanks for the support cant fault it at all Thank you a very satisfied customer.
Wayne Eyre
Empire UPVC Group, UK
It is quite useful and helpful for our company because we are operating Xin Inventory 2.0 network version. There are very powerful template for us to create own design. Especially Thanks to Xin on-line support.
Stephen Lam
Xinfa International Ltd, Hong Kong
Your software and support service are first class in the industry!
Omar Clement
Pyramis Technology, Barbado
I think its great its a simple program that keeps my small lawn care business organized in a inexpensive manner. Thanks xin
Brian Acker
Little Major Lawn Service, US
I am please to be a user of this simple yet professional XIN inventory software. I am now able to send quotes, invoices and purchase order with just a few click on the mouse/keyboard. The team at XIN setup my software for me online in only a few minutes. Thumbs up guys, i have been looking for a software like this for years and at such reasonable cost! Good job, great product.
Garfield Spence
Tritronic Electronics Limited, Jamaica
We are very happy with the software!
Dean Gray
SimplySigns, UK
So far Xin Inventory has come closest to being the inventory software that I want for my manufacturing business, most are not well suited to the changes and variations of inventory and daily running but Xin Inventory has so far worked out well.
Keith Wallace
Megastra Jaya Sdn Bhd, Malaysia

Working in Thailand it is difficult to find a system that does Quotation -> Invoice -> Receipt without too many extras that cost a lot of money! Great program.
Mark Pearson
Premier Thai Lawyers, Thailand