Purchase Order
What is Purchase Order or PO?
According to wiki, A purchase order (PO) is a commercial document and first official offer issued by a buyer to a seller, indicating types, quantities, and agreed prices for products or services.
This mean after a buyer are happy with the quotation or estimation from the seller, then create a PO and send to seller to indicate they are fine with the pricing or costing and want to make order.
What information should we put in Purchase Order or PO?
The Purchase order or PO should contain the products and services that you need to purchase. Quantity and the cost should be stated clearly in the purchase order to avoid any confusion and argument. Tax involve should be stated as well.
Shipping terms and payment terms should be printed clearly after check with the seller. Business information like company name, company registration number, company logo, address, contact number, website and related information should be there in the purchase order. This is need for the seller to deliver the product and contact with the buyer if have any issue.
Seller information like business name and address should be listed as well. Purchase order reference number and created date is needed for future reference and cross check with the seller.
Purchase order is not only a document that send to seller on the order details, but it also play a role to promote the buyer image. Hence, select a professional purchase order template is very important.
How Purchase Order / PO look like?
A professional purchase order should looks like below sample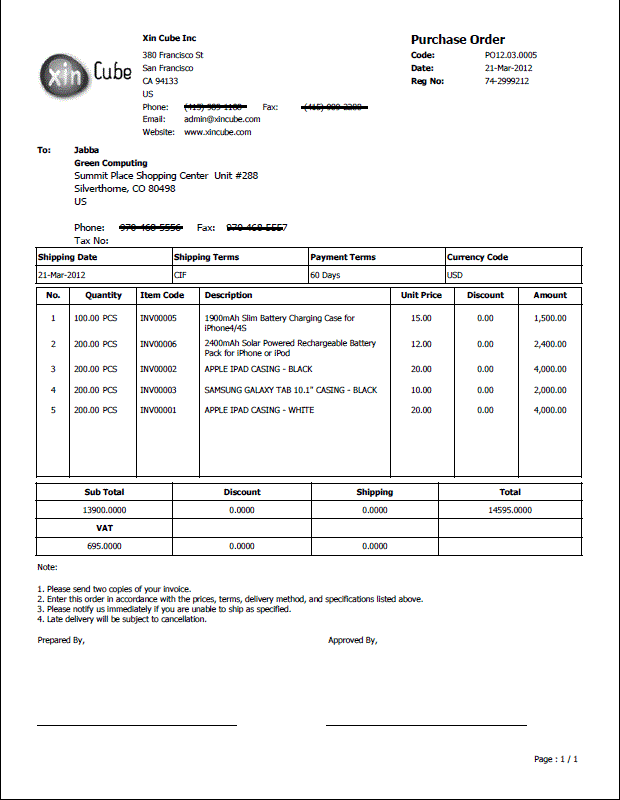 Sample Purchase Order 1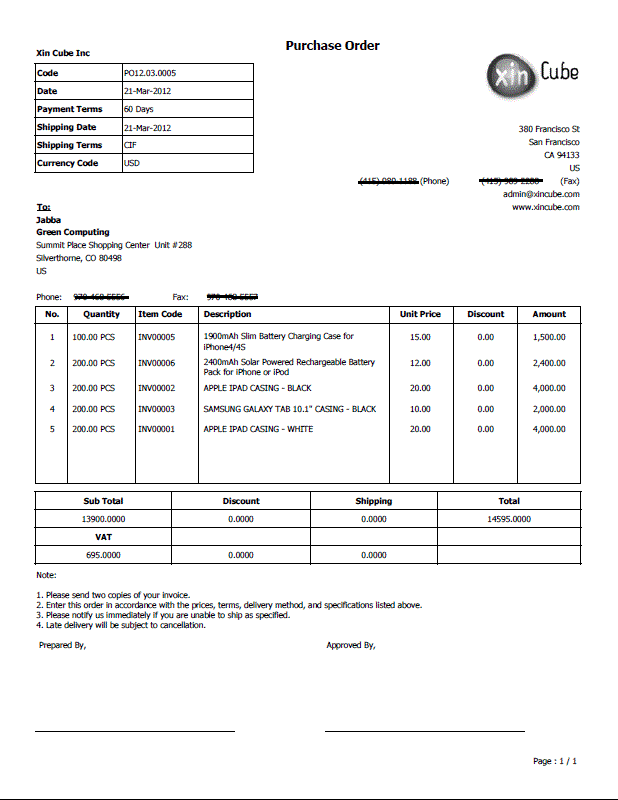 Sample Purchase Order 2
Click here to check out more
purchase order template
How to create a purchase order?
Below is how to create a purchase order using Xin Inventory 2.0. By using Xin Inventory 2.0, process of creating purchase order become very simple and fast. Others than that, user can keep track of stock by using store receiving features after the seller send the product to user's company or store.